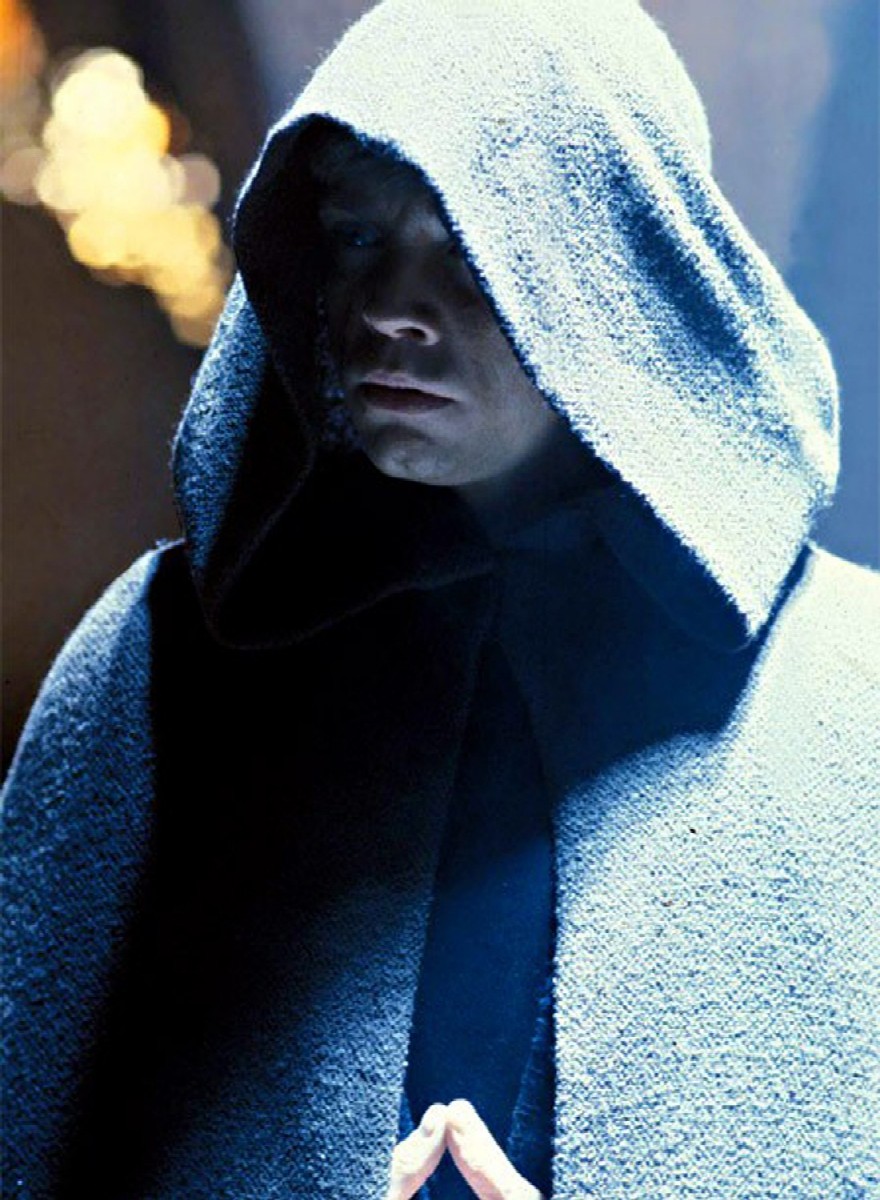 Do you remember what a mess Luke Skywalker was by the end of
The Empire Strikes Back
? By the time those horns start blowing to signal the end-credits to roll, Luke has learned that his buddy Han Solo has been suspended in carbonite, found out that Darth Vadar is his father, and he's just had his f*cking
hand
cut off-- by his newly discovered lord-of-evil father no less! A grim ending for sure...
Ah, but you knew it couldn't end like
that
, could it? Of course not. Luke makes his triumphant return to Tatooine to rescue his frozen friend dressed from head to toe in black and sporting a fresh robotic hand. The image of him walking confidently down Jabba the Hutt's corridor with his hood up and the sunlight behind him is so
gangster,
it's a wonder why the Empire didn't just give up right then and there.
A similar scene occurred last night in Milwaukee, as the Pistons' Rip Hamilton made a triumphant return of his own.
Rip's
Empire
drama has been well-documented, so there is no need for a detailed recap. However, it should be noted that, only one night before, he had been deactivated for a game against the Nets without explanation. To further muddy the waters, Detroit didn't dress Rip despite being short-handed due to injuries. Afterwards, he told reporters that he felt as if he had played his last game as a Piston, and speculated that a trade was imminent. Hamilton hadn't played since being benched nearly a month ago. If his benching was his Luke-finding-out-that-Vadar-was-his-father moment, then his deactivation was him getting his hand chopped off.
This mess had become so sordid, many wondered how Rip would respond after such an emotional roller-coaster ride. Had he played his last game as a Piston? How long can he remain professional? Can he still play? Would he crack under the psychological strain? Is the Force still with him???
Ah, the perfect set-up for the most unlikely of events. Cue the theme music...
With about a minute and a half left in the first quarter of last night's game against the Bucks, coach John Kuester summoned his old Jedi from the bench, and Rip made that trek down Jabba's corridor.
Sporting black sneakers and donning his trademark mask, Rip Hamilton, against all odds, took to the court for the first time since January 10. He promptly committed an offensive foul, missed a shot, and then fell to the floor during a scramble. Hardly the way he imagined his return, but hey, Luke didn't plan on falling through a trap door and having to face the monstrous Rancor either!
Like Luke, Rip settled down and eventually scored 15 points on 7-14 shooting in 20 minutes of action. He hit a couple of clutch shots down the stretch, and helped the Pistons conquer the Bucks, who played the role of the Rancor on this night. Afterwards it was all smiles, but with the unpredictability of this journey it's difficult to project whether or not Rip will get his chance to help save Endor and destroy the Death Star.
Hamilton could very easily be traded at any moment. He could just as easily, and more likely, return to the end of the bench once Rodney Stuckey returns from an injured shoulder. No one knows for sure
what
is going to happen. The Jedi mind tricks will undoubtedly continue between the Pistons and Hamilton, but for one night, Rip was able to remind the galaxy that he still wields a light-saber and he still knows how to use it.
Posted by
Andy Fung
February 6, 2011