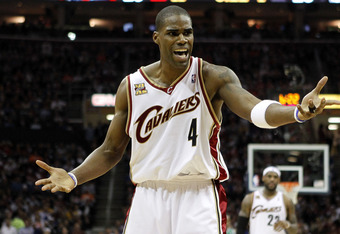 Antawn Jamison and the Cavs can't seem to find an answer.
Whew
!
Breathe easy, Pistons fans, we made it out of Cleveland last night without the dubious distinction of ending the Cavaliers' NBA-record losing streak. While the national pundits (and possibly the Cavs themselves) circled this game on their calendars as the day this ridiculously long losing streak would come to an end, the Pistons held on for a nine-point victory, 103-94.
Honestly, I was nervous. The Pistons have been as inconsistent as any team in the league. They've beaten good teams, such as Boston, Orlando, New Orleans and Dallas. But they've also fallen against really bad teams, like Toronto, New Jersey, and Minnesota. Quite frankly, it's difficult to predict which Pistons team is going to show up on a nightly basis. This has certainly been as up and down a season as I can remember, but it hasn't been as bad as Cleveland's, which has been almost exclusively
down
.
The 8-45 Cavs had their losing streak extended to an NBA-record
26
games against Detroit. They have not won a game since December 18, and have also lost 36 out of their last 37 contests. The Pistons have had a tumultuous season, but these numbers are absolutely
unfathomable
. The Cavs stand one more consecutive loss away from having the longest losing streak in American professional sports
history
. They will get their next chance to avoid infamy Friday night against the LA Clippers.
As I mentioned, 2010-2011 has been a difficult time to be a Pistons fan. Obviously with the controversy that surrounds Rip Hamilton and John Kuester, the endless lineup shuffling, and the inconsistent play, frustration among Pistons Nation has been at an all-time high. But, not having won in damn-near two
months
is ridiculous. Most sports fans are pissed if their team loses two
games
in a row.
My heart goes out to the fans in Cleveland, but not only for their incompetent basketball team. Do you realize that the city of Cleveland has not celebrated a professional championship in 46 years? 46! That is 15 years longer than I have been alive! It also happens to be the longest such drought for a city with at least three professional franchises. The city's last champ came in the form of the 1964 Browns, which captured the pre-Super Bowl NFL title five years before the f*cking moon-landing! Do you understand how long ago 1964 was? That is four years before Lebron James's
mother
was born...
I really didn't want to bring up you-know-who, but it is impossible to discuss the Cavs plight without mentioning him. It really is hard to imagine what one man meant to an organization, a city, and frankly, the entire state of Ohio. Think about this for a second: The Cavs had the best record in the NBA the previous two seasons having won 66 and 61 games, respectively. They are currently on pace to
lose
70 games this year. Yikes. Despite what you think of James as a person, his impact on the court is undeniable. The player who took his
talents
ego to South Beach last summer represented the Forest City's best chance at ending their professional championship drought.
Detroit, on the other hand, has celebrated many championships in the time since Jim Brown led Cleveland to the '64 NFL title. The Tigers won the '68 and '84 World Series. The Pistons, of course, won 'chips in '89, '90, and 2004. The Red Wings have captured the Stanley Cup four times in that span. (Let's not spoil a good thing and talk about the Lions.)
Not only do we have past championships to smile upon, but the struggling Pistons are better prepared than their Cleveland counterparts for future success. With promising young players such as Rodney Stuckey, Greg Monroe, Jonas Jerebko, and Austin Daye, Detroit is primed--believe it or not--for a possible resurgence. The Cavs boast a lineup of D-League players and Antawn Jamison, who happens to be 35 years old.
The Tigers are ready to roar after reloading over the winter, while the Indians are seemingly always in cost-cutting mode. The Red Wings are first in their division and are ready for another long playoff run. Poor Cleveland doesn't even have a pro hockey team, although nearby Columbus has the Blue Jackets, but they are six points out of the playoffs as of today. Even the lowly Lions seem ready to build off of an encouraging season, and actually finished one game better than the dysfunctional Browns.
So, chin up, Detroit fans. It could be a lot worse-- we could have all grown up in Cleveland.
Posted by:
Andy Fung
February 10, 2011