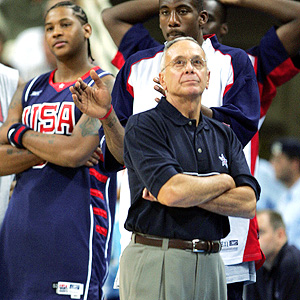 The drama that played out in Athens would have been
10-fold if Carmelo Anthony and Larry Brown had been
united in Detroit.
By
Andy Fung
January 19, 2011
Unless you have spent the last six months living in a cave, then surely you are aware that Nuggets "star" forward Carmelo Anthony wants out of Denver. It has been almost impossible to avoid the constant rumors and daily reports that have bombarded basketball fans
relentlessly
since the end of last season. I had done my best to ignore the speculation and hearsay up until the latest rumor that revealed the Pistons involvement in a potential three team trade that would send Melo to New Jersey.
There are certainly a lot of interesting subplots surrounding this alleged agreement (reports indicate that the three teams involved-- the Nets, Nuggets, and Pistons-- have agreed in principle and are simply waiting for Carmelo's blessing). Among them: Chauncey Billups and Rip Hamilton, longtime teammates in Detroit, would be reunited in New Jersey, Billups would be callously dealt by his hometown team, Rip would be discarded by the team for which he is the all-time leading playoff scorer, and, of course, Melo would return to his "roots" in, eventually, Brooklyn. (By the way, am I the only one who thinks it's weird that he refers to New York as his hometown when in fact he left Brooklyn--
not
New York City-- when he was eight years old, and then spent his formative years in Baltimore? I'm just saying...) But, the most intriguing of all the subplots that swirl around this possible deal is the fact that Detroit could have drafted Melo in the 2003 draft, and instead is now, almost eight years later, a key facilitator in his possible move back to the East coast.
The Pistons have come under a lot of fire for passing up Anthony with the second overall pick in the aforementioned draft to select Darko Milicic. That fire has burned even brighter since the Pistons, who are simply dumping salary when they eventually dump Rip, have become linked to the anticipated trade involving
Brooklyn's
Baltimore's finest. The basic sentiment being that
we
should be in control of Carmelo's future rather than being a mere patsy in this proposed deal. Look, I, as many Pistons fans have, absolutely abhorred the drafting of Milicic, but the simple truth of it is we would be sitting exactly where Nuggets fans are now-- only we probably would have taken our seats three years earlier. Let me explain...
Let's rewind back to that fateful summer in 2003 when the Pistons had just lost to, ironically, the New Jersey Nets in the Eastern Conference Finals, but had the luxury of owning the Grizzlies' first round pick due to an Otis Thorpe trade made back in 1998. That trade was finally consummated during the draft lottery of 2003 when it was the Grizzlies logo that turned up as the lucky team that drafted second (if it had been first, Memphis would have retained the pick--sorry Lebron fans). I remember running into work that day singing "Mellow Yellow" to anyone that would listen, as the thought of Carmelo Anthony, fresh off of an NCAA title with Syracuse, donning the Pistons' red, white, and blue danced through my head. I was, like everyone else except Joe Dumars, expecting the Pistons to add the high-scoring forward to a team that was already on the verge of the NBA Finals. Half a dozen Championship trophies had successfully paraded across my mind when something funny happened on the way to the draft in June: Dumars fell in love with a 7-foot Serbian who was 17 and a bench warmer for his European club.
What?!
Ok, ok, we won't relive the painful details any longer, although we did end up capturing the 2004 crown, which I suppose trumps anything else that may or may not have happened. But Darko only lasted two and half seasons in Motown, and Carmelo was lighting up the scoreboards in the Mile High City, which only fueled the cantankerous mood of Pistons fans as their team lost year after year in the Eastern Conference Finals. But consider Detroit's coach at the time. Larry Brown, who loathes young players almost as much as Melo apparently loathes Denver, was at the Pistons' helm. We need only look to the 2004 Athens Olympics to catch a glimpse of how LB and Carmelo would have gotten along. Larry benched him, along with Lebron James, due to his apparent refusal to adapt to a team-oriented concept and, frankly, his refusal to be coached. Now imagine Melo, clad in Pistons' colors, sulking on the bench as he backed up Tayshaun Prince, and --
gasp
-- had to actually
earn
playing time. No matter how I spin it in my mind, the Larry Brown-Carmelo Anthony marriage almost certainly would have ended in divorce. If you think things would have improved under Flip Saunders, then I implore you to find Ben Wallace and Rasheed Wallace and ask them what they thought of the man who replaced Brown.
The simple truth, Pistons fans, is that Anthony never would have resigned with Detroit after his rookie contract expired, and I think that is evident with the melodrama playing out everyday now in Colorado. Yes, he signed a three-year extension with Denver, but that was done under presumably
bad advice
from his former agent, and after four years of being treated like a god by the Nuggets. In Denver, Melo had the opportunity to join a struggling team, be handed the keys to the franchise, jack up 25 shots a night, and generally do whatever he wanted. He almost certainly would not have been afforded the same treatment on the veteren Pistons who were competing annually for a title. He would have pouted, demanded a trade, or simply bolted at the first opportunity. Do you think the Pistons of the 2000s really needed that poisonous element?
Those teams were built on unselfishness and hard work. Sure, there were flare-ups and egos definitely clashed, but for the most part everybody played for the
team
and not themselves. With what has transpired throughout the past few months, I cannot confidently state that about Carmelo Anthony. Simply put, he plays for himself. He refused to sign another extension with Denver last summer, and then publicly pined for the Knicks. Then he proceeded to answer every question about the situation, including speaking openly about playing for other teams and his possible plans if he hits free agency. This was followed by rumor after rumor, which has culminated with the reported New Jersey/Detroit deal, and his public comments regarding it. After which, he claimed regret over Billups's name being dragged into trade talks, only to promptly follow that up with an exclusive interview with ESPN, in which he gushed about how playing in NYC would be a dream come true. Did I mention he is still under contract with the Denver Nuggets? Did I mention that he has 14 teammates that have to deal with the unending questions about their teammate's future? Did I happen to mention that Denver is coming off of three straight 50-win seasons and had championship aspirations coming into this campaign? Carmelo is a joke-- a living parody of the modern athlete, and we as Pistons fans should consider ourselves fortunate that Joe Dumars crushed so hard on Darko Milicic, thus sparing us the pain and disappointment Nuggets fans are assuredly experiencing right about now.
Whew...if you want to climb back into that cave, I totally understand...